---
New Tech
SUPERBEE®
Convex EM15 R1-R6 Inserts
Replace your
Mitsubishi
® insert with a
SUPERBEE
® insert.
Superbee's EM inserts fit BAE End Mills
SUPERBEE

Made in the USA
Precision Ground Tolerance
E tolerance
± .001 on IC
thickness and B dimension
Mitsubishi

Made in Japan
Utility Pressed Tolerance
M tolerance
± .002 to ± .005 on Ic
± .005 on thickness
± .003 to +/- .007 on the B dimension
If you need assistance selecting the correct tool and insert please give us a call.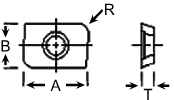 New T5700 Grade
Our new proprietary T5700 grade is the first true do-it-all grade. It outperforms AlTiN in steel applications, and outperforms TiCN in Stainless and higher wear applications. T5700 must be run at 15% higher surface footages than the previous coating technology, and you will see significant gains in tool life!
---
EM15 R1 Convex Inserts
EM15 R1
A
B
T
Radius
Mitsubishi Insert Number

EM15 R1

Grade - Hone
E = Honed Edge
F = Sharp Edge

Qty

Buy

0.625
0.375
0.125
0.007
0.625
0.375
0.125
0.015
AEMW150304
0.625
0.375
0.125
0.020
0.625
0.375
0.125
0.030
AEMW150308
0.625
0.375
0.125
0.040
0.625
0.375
0.125
0.050
0.625
0.375
0.125
0.060
AEMW1503062
EM15 R2 Convex Inserts
EM15 R2
A
B
T
Radius
Mitsubishi Insert Number

EM15 R2

Grade - Hone
E = Honed Edge
F = Sharp Edge

Qty

Buy

0.625
0.375
0.125
0.070
0.625
0.375
0.125
0.080
0.625
0.375
0.125
0.090
AEMW1503090
0.625
0.375
0.125
0.100
0.625
0.375
0.125
0.110
0.625
0.375
0.125
0.120
0.625
0.375
0.125
0.125
AEMW1503125
0.625
0.375
0.125
0.130
EM15 R3 Convex Inserts
EM15 R3
A
B
T
Radius
Mitsubishi Insert Number

EM15 R3

Grade - Hone
E = Honed Edge
F = Sharp Edge

Qty

Buy

0.625
0.375
0.125
0.140
0.625
0.375
0.125
0.150
0.625
0.375
0.125
0.156
0.625
0.375
0.125
0.160
0.625
0.375
0.125
0.170
0.625
0.375
0.125
0.187
0.625
0.375
0.125
0.190
EM15 R4 Convex Inserts
EM15 R4
A
B
T
Radius
Mitsubishi Insert Number

EM15 R4

Grade - Hone
E = Honed Edge
F = Sharp Edge

Qty

Buy

0.625
0.375
0.125
0.200
0.625
0.375
0.125
0.210
0.625
0.375
0.125
0.220
0.625
0.375
0.125
0.250
AEMW1503250
EM15 R5 Convex Inserts
EM15 R5
A
B
T
Radius
Mitsubishi Insert Number

EM15 R5

Grade - Hone
E = Honed Edge
F = Sharp Edge

Qty

Buy

0.625
0.375
0.125
0.312
EM15 R6 Convex Inserts
EM15 R6
A
B
T
Radius
Mitsubishi Insert Number

EM15 R6

Grade - Hone
E = Honed Edge
F = Sharp Edge

Qty

Buy

0.625
0.375
0.125
0.375